Careers Education
At All Saints School we pride ourselves on our ever-evolving careers support provision for our students where, at the earliest opportunity, we begin the process of preparing them for life post 16.
In today's economy it is vital that students develop confidence and resilience to enable them to aspire and achieve both academically and personally. We are committed to ensure that students have access to exceptional independent Careers Education, Information, Advice and Guidance (CEIAG).
CEIAG now has to meet a set of new standards, called the Gatsby Benchmark standard.
The Gatsby Benchmarks are a framework of 8 guidelines about what makes the best careers provision in schools and colleges. The Careers Strategy is built around them, ensuring excellent careers provision in schools.
The 8 Gatsby benchmarks of Good Career Guidance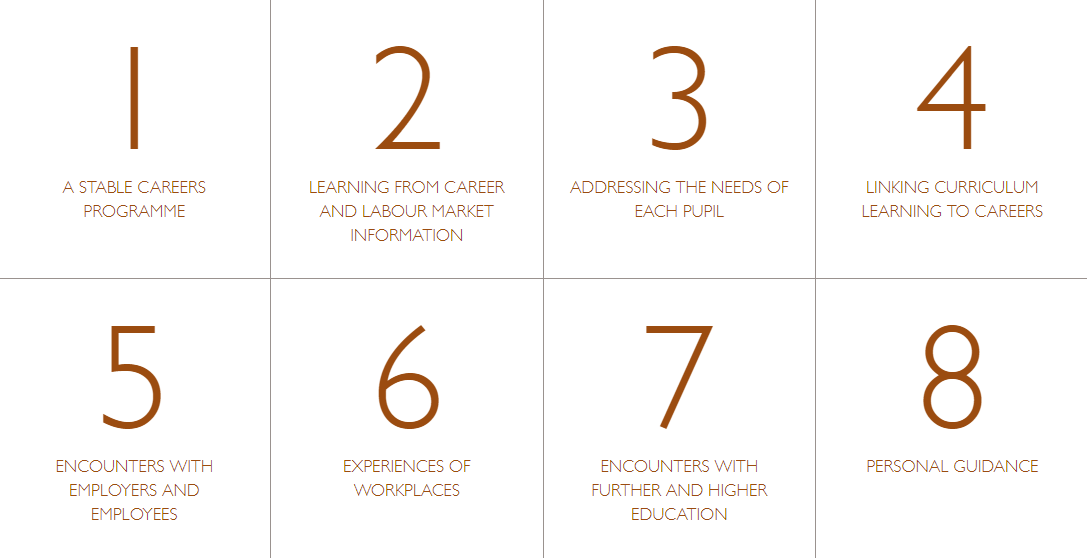 Through PSHE lessons and form tutor time, teachers consciously attempt to develop the skills, knowledge and understanding that employers want.
PSHE is a National Curriculum, although a non- statutory subject which contains several specialist and statutory areas.
The main areas of specialism are: Drug Education, Economic Well-being and Financial Capability, Emotional Health and Wellbeing, Staying Safe and Relationships and Sex Education (RSE), and Healthy Eating/Healthy Lifestyles.
Throughout years 7-11 PSHE addresses issues such as:
Mental health including self-worth and aspiration
Positive relationships
Drugs – including alcohol and tobacco
Healthy eating/ physical activity
Equalities and inclusion
Economic Wellbeing and Financial Capability
Safety including E-safety
Careers and work-related learning
Citizenship
As a school, it is our passion to make our students feel as supported as possible and informed so that they can independently make the right decisions later in life.
Careers Advice
At All Saints School we recognise the need for impartial Careers Guidance. This is a statutory requirement and we value the importance of providing our students with the information they need to make informed choices about their future beyond All Saints School.
Impartial Careers Guidance is provided by Beacon East and namely Kelly Lee, who is a Level 6 qualified Careers Adviser, works closely with Miss King, to offer individual appointments, across the academic year, for all students in years 9-11.
Although not all students will feel the need of an individual careers guidance appointment, all students have benefitted from accurate and up to date careers information and some will also seek advice from other staff in school about their future plans.
For links to lots of resources that will help your son/daughter make informed decisions about their Post-16, please click on the career websites below for further information.
If you feel your son/daughter would benefit from an additional Careers Guidance appointment, please contact Miss King in school, email: kking@allsaintslessingham.co.uk
Help You Choose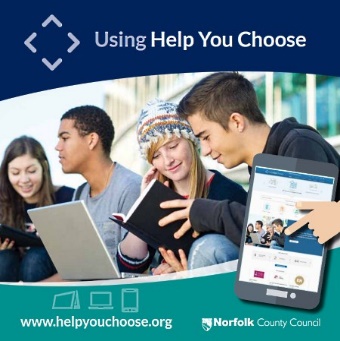 Norfolk's helpyouchoose website offers this page for parents.
How do the new qualifications compare?
What are the types of courses available in Further Education?
What's the difference between Apprenticeships and Traineeships?
Is financial support available for families?
What help and support is available regarding Travel and Transport for college/ sixth form students & much more…
Calendar of Open Days and Open Evenings
Norfolk's helpyouchoose website has this calendar that hosts the county's offerings of Open Days and Evenings for Year 11 students.
Norfolk Work and Skills
Norfolk is a great place for young people to study, find work and develop their careers.  There are over 35,000 employers in Norfolk offering a huge number of opportunities available in a very wide range of sectors.  In recent years, Norfolk has seen a growth in knowledge-based and service industries and the key employment sectors in the County are highlighted in this guide.